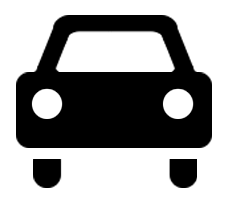 Book Online and pick it up in your car.
The click & car service is a free service. You can make a purchase in our online store and select the area where you want to pick it up with your car.
How can I make a click & car order?
To make an order click & car you have to make a purchase in our online store, and when you go to select the shipping method, select click & car. A list will appear with the areas where you can pick up the order. Select the area you prefer and complete the order. We will send you an email with the order, and when your order is ready for collection we will call you to arrange the day and time of collection. You can then go through the selected area to pick up your order in the time slot from 18:00 to 20:00.
How long will it take for my order to arrive at the pickup area?
The process of sending the garments to the pick up area will take between one and five days.
Where do I collect my order?
If you have selected Click & Car as the shipping method, your order will be sent to the area that you have selected during the purchase process. We will contact you by phone and email as soon as the order is ready to pick up.
The areas where you can pick up your order from your car are the following:
Gran Canaria, Maspalomas, Meloneras.
Roundabout parking without exit next to the C.C. Varadero.
The Mint Company Luxe Meloneras Shop

What is the pickup time?

Orders can be collected within the time slot from 18:00 to 20:00

When can I pick up my order?

As soon as your order is ready, a person in charge of the collection area you have selected, will call you to indicate the date and time when you can pick it up. Please note that the collection times are from 18:00 to 20:00.

What do I have to bring to pick up the order?

The confirmation of your order that we send you by email. It can be printed or on your mobile phone.
An official identification document with photo, can be a DNI, a driving license, etc.

Can someone else pick up my order?

Yes. If you are unable to pick up your order, there is the option to have someone else come for you. In this case, you have to contact us to provide us the details of the person who is going to take your place. We will need a DNI and name. The contact telephone number for these cases is: +34 928 140 998

Can I exchange or return my order?

If you want to change or return your order, you can request a credit that will be reimbursed on the next business day, with the same payment method that the purchase was made.